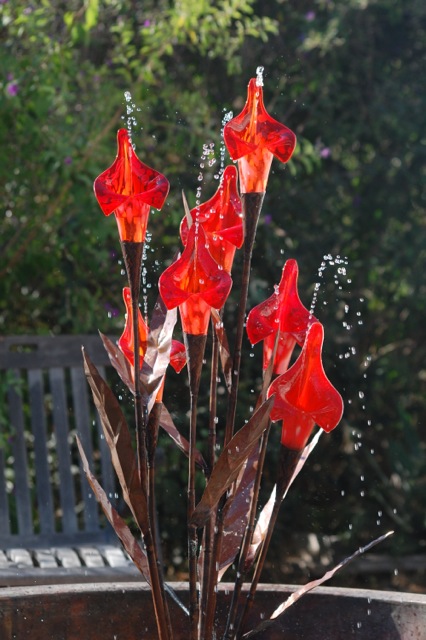 glass and copper PATIO fountain
A glass fountain that comes alive with the sound of water transforming into the most elegant focal point for any garden or patio setting. Every outdoor room, patio or garden should have a water feature, a water fountain, or water sculpture to focus the eye and soothe the senses. Particularly important in Feng Shui, adding a water fountain on the patio, will bring good Chi energy into the garden or home. Where the water feature is placed is very auspicious in Feng Shui in bringing harmony and prosperity. Delicate hand blown glass flowers in multiple hues of blue, adorn hand cut copper stems. Every lily shaped bulb (8 in x 6 in) is custom made and no two pieces are exactly alike. If you are looking for a pop of color to add to your front or backyard, this garden fountain will be the perfect eye-catching focal point in any outdoor setting.
Standard order contains 7 hand blown glass flowers.
Colors: Blue, Red, Mixed
Height: 50 inches
Item Includes:
Delivery Time: 10-12 weeks
Price: $3,660.00
Price for 10 flowers: $6,800.00
Price for 15 flowers: $9,620.00