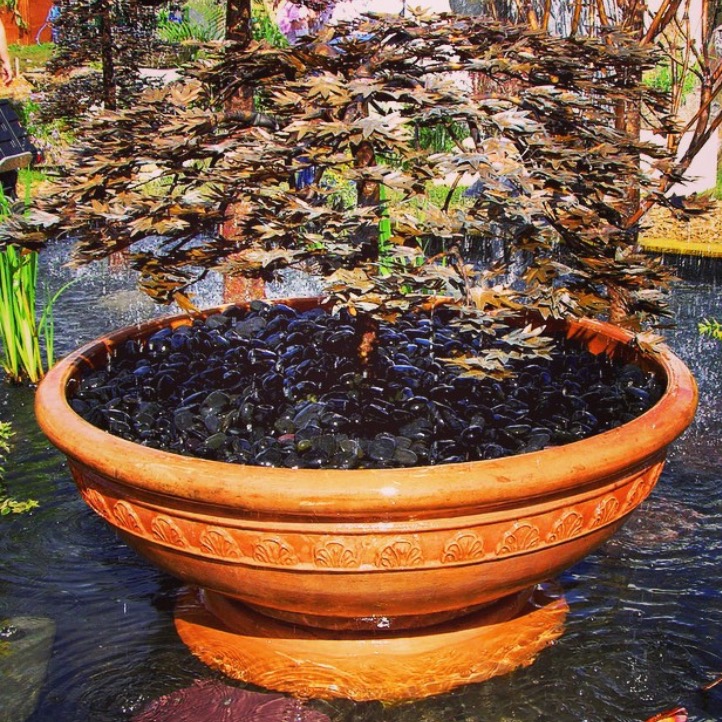 Japanese Maple Copper Tree Fountain
Over the centuries in Japan, there has been a massive amount of poetry written about maple leaves and maple trees in the fall. Our Japanese Maple outdoor fountain was inspired by the ancient artistry of creating a bonsai tree.
Maple leaves and trees figure prominently in classical Japanese waka (和歌) poetry. They can be frequently found in the hyakunin isshu (百人一首) genre of waka, where images of falling red maple leaves compliment the emotions evoked by the poetry in the classical Ogura Hyakunin Isshu anthology.
The Japanese Maple water fountain with its bronze life-like hand formed trunk and branches of copper maple leaves carefully and individually cut by hand is our most popular water fountain. This elegant, graceful water feature can be placed out on a deck, patio, in a courtyard, even inside a large entry hall. Especially effective in an Asian themed garden or home, the fountain will add the perfect focal point to draw the eye and soothe the senses. The water has been painstakingly piped through the branches to create the most realistic cascade over the leaves. A water feature is a very important part of creating a garden that flows with good Chi energy and every Feng Shui experts recommends the placement of a fountain in the home or garden.. The copper leaves will gently age to a green patina over time, and as the tree fountain has been crafted by hand it will stand as a unique piece of garden sculpture and art inspired by nature for years to come.
Height: 40 inches
Width: 34 inches
Weight: 92.5 lbs. (this includes the concrete base)
Item Includes:
4oo Gph pump

Custom made fine mesh stainless steel filter bag

Installation Manual
Delivery Time: 10-12 weeks
Price: $3,900 *shipping not included